Video Chat 101
Your meetings will take place over our Video Chat. This article will help you prepare for, and action your partnering meetings.
1. Preparation
You will be in conversation with your meeting partner/s via your web browser, and your inbuilt or external camera, and microphone. You may already be accustomed to using these accessories, but if not we recommend the following audio options:
For computers, laptops and tablets: use a headset.
For phones: use earbuds or similar to avoid audio feedback.
If your colleagues are joining the call in the same room, avoid audio feedback by joining together to use one camera and microphone. Or, during the chat, switch on the mute icon when you are not speaking.
Make a backup plan in case connections fail. Where possible we have published phone numbers for each participant. You may want to establish an alternative connection with them before the meeting.
2. Join your meeting
Go to your Schedule
Your meeting will begin when the green local time in your Schedule grid matches the date/time shown on your device.
Click on the 'Confirmed' link on the meeting entry in the grid
Click the Start button at the bottom of the page.
Your Video Chat will start in a few seconds. Your brower may request access to your camera and microphone. You meeting partner may already be visible, or you may need to wait a little.
3. Manage your meeting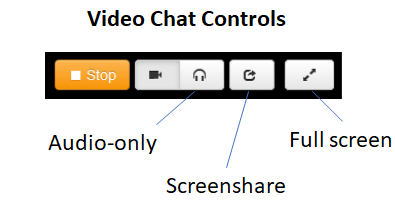 Click the up arrow at the top right of any frame within the video screen to expand the view.
Click the down arrow to reduce any frame to normal size
Click the Sharescreen icon in the lower toolbar to share your content. You may need to scroll to reach the toolbar.
You will then be asked to select your content from a dropdown.
To stop content sharing, click the Sharescreen icon again
Display the video in full screen by clicking the full screen icon in the lower toolbar. Reduce by clicking it again.
Mute your microphone by clicking the microphone icon at the top right of your own screen.
Mute any other participant by clicking the speaker icon at the top right of their screen.
5. Troubleshooting
Poor connection:
Click the audio only icon in the lower toolbar to reduce the burden on your connection
Failed connection (error message):
Make sure your device camera is switched on. There is usual a small video icon in the browser toolbar - click it, and grant access.
Check your system compatibility here.